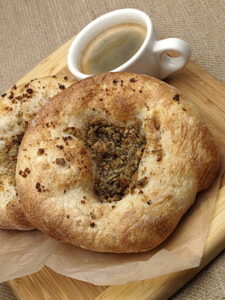 Bialys are a part of the bagel family but are quite different from the well-known bagel. While the typical American bagel is a dense, almost spherical roll covered in salt and occasionally filled with some sort of sweet filling, bialys have a much different shape and a very different taste. They're almost like two triangular pieces of bread stuck together with an onion filling. 
Additionally, whereas traditional bagels are often topped with sesame seeds or poppy seeds as part of their primary flavoring, bialys usually have no special toppings at all—just some coarse salt on the exterior to add a bit of zing to their natural sweetness.
What is a Bialy?
A bialy is a small, round roll that comes from several different cultures in Europe, with the primary difference being the toppings. Some bialys are topped with poppy seeds, some with sesame seeds, and some even with caraway seeds. The one thing that is true of all bialys is that they all have a savory onion filling baked into them, and they're all baked rather than boiled like traditional bagels. 
The result is a denser, sweeter, and more savory taste than the well-known New York bagel. The primary difference between bialys and bagels is the shape. Bialys are a round roll, while bagels are a ring. Traditional bagels are usually topped with salt, sesame seeds, or poppy seeds. Bialys have a sweet onion flavor and are usually topped with just coarse salt.
Why are Bialys Called Bialys?
There are actually several different stories about the etymology of the word bialy. The most obvious explanation is that the name comes from the city Bielsko-Biala, which is in modern-day Poland and has a long history of baking savory rolls. However, there is also a story that people called them "bialys" because they were baked in an oven called a "bialy" or "bielitza" in Russian.
And, another tale holds that the bialy's name comes from the German word "backen" which means "to bake." In reality, the name almost certainly comes from the fact that the bialy is baked in an oven instead of being boiled like a bagel. And in modern America, the word "bialy" has come to be used as a general term for any roll with a baked-in filling.
How are Bialys Made?
Like any other kind of baked good, bialys have a recipe that's designed to give them the same texture every time, regardless of who's making them or what kind of oven they're using. Like most baked goods, the recipe for bialys starts with a sponge (or, in bakers' jargon, a "sponge"). 
The "sponge" is basically just a bowl full of bread dough that has been allowed to rise slightly before being kneaded down and put in the fridge. After a few hours of chilling, the dough is removed from the refrigerator, formed into bialys, and baked. 
The Ingredients in a Classic Bialy
Bialys are primarily a bread roll, which makes them very different from bagels. The difference is that bagels are boiled in water before being baked in the oven, while bialys are baked from scratch in the oven from the moment they're made.
This shift in cooking methods also changes the flavor of the two pieces of bread, with bialys usually having a very sweet taste and a spongy texture. Bialys are almost always baked with a generous amount of onion inside. The sweetness of the onion offsets the denser texture of the bread, which is made even heavier by adding coarse salt on the outside of the baked goods. You can add any toppings you like, but the classic bialy is made with just onion, salt, and bread.
Variations on a Theme: Other Types of Bialys
As we mentioned earlier, there are several different types of bialys, with the primary difference being the kind of toppings baked into the bread. One of the most common types of bialys is the "poppy seed bialy," a roll with many poppy seeds baked inside. Another common type is a "sesame seed bialy," which has a smaller amount of sesame seeds baked inside. And finally there is the "caraway seed bialy," which has large amounts of caraway seeds baked inside and no onion. Although you're unlikely to find a "classic" bialy baked with any other toppings than those listed above, you can order any of these different types of bialy at just about any bagel shop in America.
Conclusion
Bialys are a type of baked, round, savory bread with a soft texture. The word "bialy" probably comes from the Russian word "bialy" or "bielitza," which means "oven." Bialys are usually smaller than bagels and are usually topped with coarse salt. They are sweeter than bagels and have a spongy texture. Bialys are usually filled with onion and sometimes poppy seeds, sesame seeds, or caraway seeds. Bialys are a delicious and different baked good that you can eat any time of the day. They are often eaten with coffee or tea, and they also make great snacks and appetizers. Bialys are an excellent choice for breakfast or brunch, but they are also good for dessert or a nice cup of tea.