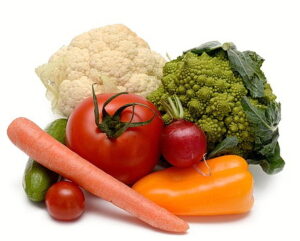 No way you say? At a bagel store? Because you immediately become emersed in the thought of bagels and the calories that accompany them but did you ever think about the food items you can eat that are low on calories and also healthy for your body and brain? With over 30 years of baking experience, let's see what healthy treats Cinos can do for you!
Yogurt Parfait
Packed with protein, fiber, calcium, iron, and vitamin C, how can you go wrong? This tasty breakfast (also as a snack) contains blueberries, strawberries, granola, and of course yogurt. 
OK, we know. Most of these parfaits do have some sugar content, but if you are not that concerned about your weight and even if you are, the calorie content is not that much to really be concerned about, and in general, the health benefits can outweigh the negative; however, it really is up to you – the individual to make the final decision.
Let's start with some blueberries and strawberries (nutrients discussed in the Fresh Fruits section) for your parfait and a little granola to the top.
What is Granola?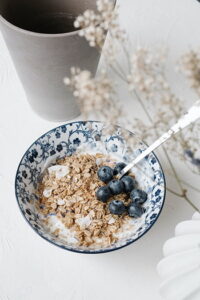 Granola is a very high fiber filling food. It can fill your stomach so you don't feel hungry for more calorie-ridden snacks. This is referred to as satiation. Granola contains oats and whole grains, which help you not just maintain weight but are also loaded with antioxidants, proteins, healthy fats, and micronutrients.
Improves Blood Pressure
Blood pressure problems? Dig into that granola let your blood run (in a healthy way of course). Granola has been found in studies that it can help with hypertension.

Lowers Cholesterol
The oats in granola contain beta-glucan, which studies have shown that these oats help to reduce "bad" cholesterol (LDL) levels. This can help in reducing the possibility of heart disease.
Fresh Fruit
You don't have to have a parfait to enjoy some healthy low-calorie foods. Have a feast on fresh blueberries, strawberries, and bananas along with your wake me up coffee or cappuccino.
Here are the benefits of eating fresh fruit:
Blueberries
This superfood is packed with antioxidants, which is a healthy element that attacks free radicals and free radicals is not something that you want in your body.
Blueberries are known to have one of the highest antioxidant capacities compared to other fruits and vegetables. The benefits of acquiring antioxidants on a daily basis help to lower the risk of heart disease and brain diseases, as well as help people with stress and anxiety. 
Strawberries
Fiber is a welcome ingredient here, as well as fighting oxidative stress (the result of free radicals), which, like blueberries help to reduce the risk of illnesses such as heart disease and cancer.
In Closing
These are just a sample of healthy foods Cinos can provide. We didn't even tell you about our veggie sandwiches. Why not drop by and check it out? And don't forget to have a cup of our freshly made cappuccino!