How Our Kettle Cooked Bagels are Made!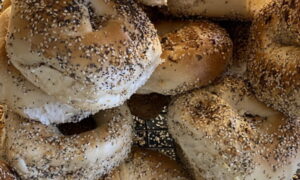 Continuing on our binge of healthy items at the bagel store, we have so spoken about eating healthy foods and what healthy foods are available at the bagel store, but we have not touched specifically on healthy bagels! That's right. Healthy bagels! 
This article describes how bagels fit into a healthy diet and gives tips on how you can maximize their nutritional value. Here is everything you need to know about bagels, including what people say about incorporating them into a nutritional diet. Knead the dough, form a circle with a hole in the middle, then cook and bake the bagels.
The nutritional content of bagels can vary widely, with countless varieties made from an assortment of ingredients. In general, bagels are made from whole foods which are healthy in their own right. The simplest bagel is made from a mixture of refined wheat flour, salt, water, and yeast.
Bagels can be healthier than breakfast pastries, such as croissants and donuts because they contain less fat. The exact nutritional value of a bagel depends on the ingredients and toppings used. While its value can vary depending on the variety, bagels are a good source of energy and carbohydrates as well as small to medium amounts of protein.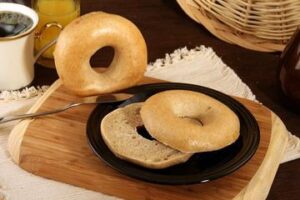 Whole grain bagels contain more vitamins, minerals, and fiber than regular bagels. Bagels that are billed as wholemeal are made from 100 percent wholemeal flour, but you can also eat standard bagels made from processed flour. However, do not assume that they always contain whole grains.
When you buy bagels, it is best to choose from the whole food options: flour, yeast, salt, barley malt, and eggs. Given all these options, it can be difficult to decide which bagels to buy if you want to eat healthily.