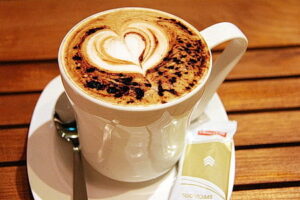 The new year is coming upon us. With that said, why not take a moment to enjoy a cup of coffee every January 20, which is National Coffee Break Day. Some people can't start their day without a cup of coffee, while others need the extra boost in the afternoon. 
The caffeine in coffee can affect people in different ways. While one person may be able to drink multiple cups throughout the day and fall asleep shortly after their last cup, another might not be able to drink a cup after noon or they'll be up until midnight.
It is interesting to note, though, that while Americans may love coffee, we don't compare to other countries. In fact, the US doesn't even crack the top 15 for daily per capita consumption of coffee. The Scandinavian countries, led by Norway, topped of the list. In Norway, per capita consumption is 2.4 cups a day, while US per capita consumption is only at 0.9 cups a day.
While experts are concerned about our increasingly caffeinated nation—not without merit—coffee and caffeine also have some health benefits. For instance, caffeine can improve memory and mental functioning.
In fact, three or four cups a day may help prevent type-2 diabetes, Parkinson's disease, liver disease and liver cancer. However, the saying goes "all good things in moderation." Caffeine can also increase blood pressure and may increase the risk of heart disease.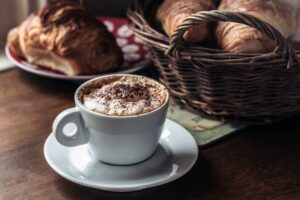 If you're looking to get your daily coffee fix, but are tired of drinking it, try cooking with it and make our braised short ribs. This recipe is for six pounds of short ribs. You should brew half a cup of coffee in advance.
Recipe:
Take 4 dried ancho chilies
Remove the stems, the seeds, and the ribs,

Place them in 2 cups of boiling-hot water for 20 minutes, or until softened. Drain the liquid in a colander over a bowl. The water should be a little bitter, but not unpleasantly so.
Put the chilies in a blender and puree them with 1 medium onion, quartered, 3 garlic cloves that have been coarsely chopped, 2 tablespoons of finely chopped canned chipotle chilies in adobo, 2 teaspoons of the adobo sauce, 2 tablespoons of pure maple syrup, 1 tablespoon of fresh lime juice and 1 teaspoon of salt.


Pat the ribs dry and sprinkle with 1 teaspoon of black pepper and 2 teaspoons of salt.

Heat oil in a large, heavy skillet, then brown the ribs in 3 batches, about 5 minutes per batch.
Turn the ribs occasionally and transfer to a roasting pan large enough to hold the ribs in 1 layer. Preheat the oven to 350 degrees Fahrenheit, but don't put the ribs in just yet.

The skillet should have some fat remaining.

Add the puree to the skillet and cook for about 5 minutes over moderately low heat, stirring frequently.

Add the chili-soaked liquid you set aside earlier and the coffee.

Bring the whole sauce to a boil.
Pour it over the ribs.
he liquid should be enough to come halfway up the sides of the meat.
Cover the roasting pan tightly with foil and braise ribs in the middle of the oven for 3 to 3 and a half hours.
The ribs should be very tender. Serve with your side of choice.